December 2016
2017 marks the Maryland State Golf Association's 96th year of service to the game and to golfers in Maryland. Our guiding principles remain the courtesy, sportsmanship, and integrity that are the backbone of our game. We are proud to promote our game and to provide opportunities for golfers of all abilities to participate in our events.
Over 1,700 golfers participated in our championships in 2016, an increase of over 6%. In addition, our one-day events continued to grow. We held three One-Days in 2012; in 2016 we held six events across the state and attracted nearly 600 golfers. We added a seventh One-Day event to the schedule in 2017.
Two of the MSGA's most visible administrative efforts are providing handicaps to Maryland golfers and rating golf courses according to the USGA course rating system. In 2016 we provided handicaps to over 40,000 golfers at 159 member clubs. And our men's and women's course rating teams combined to rate 57 courses in 2016.
Maryland is home to many top-notch tournament officials. Several of our board members and staff have consistently scored over 90 on the USGA Rules of Golf exam, as have many of our other volunteers. Several members of the MSGA also serve on USGA national committees, including the Women's Committee, the Junior Amateur Committee and the Senior Amateur Committee. Every year, MSGA volunteers conduct Rules of Golf seminars and workshops at our member clubs.
The Association is also very proud of our tradition of granting scholarships to college students; we announced in November that we awarded $22,500 to nine students. Our scholarship grants are now approaching $500,000 since we made our first scholarship award in 1969; we have now helped over 200 students achieve their educational goals.
In 2016 we began a new program, the Junior Grant Program, to help defray the high cost of competing in junior golf events. Our goal is to make it easier for talented juniors, whose families are of limited financial means, to gain the attention of college golf coaches by competing in events that they wouldn't otherwise be able to attend. More details can be found here.
Our programs would not be possible were it not for the generous support of our volunteers and donors, as well as the strong support from the golfers of Maryland. We sincerely appreciate the confidence you've shown in us, and we hope you have a great golf season in 2017 and beyond.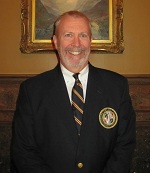 Jack Barse
President
Maryland State Golf Association
jack@barse.org